RAMADAN ANNOUNCEMENTS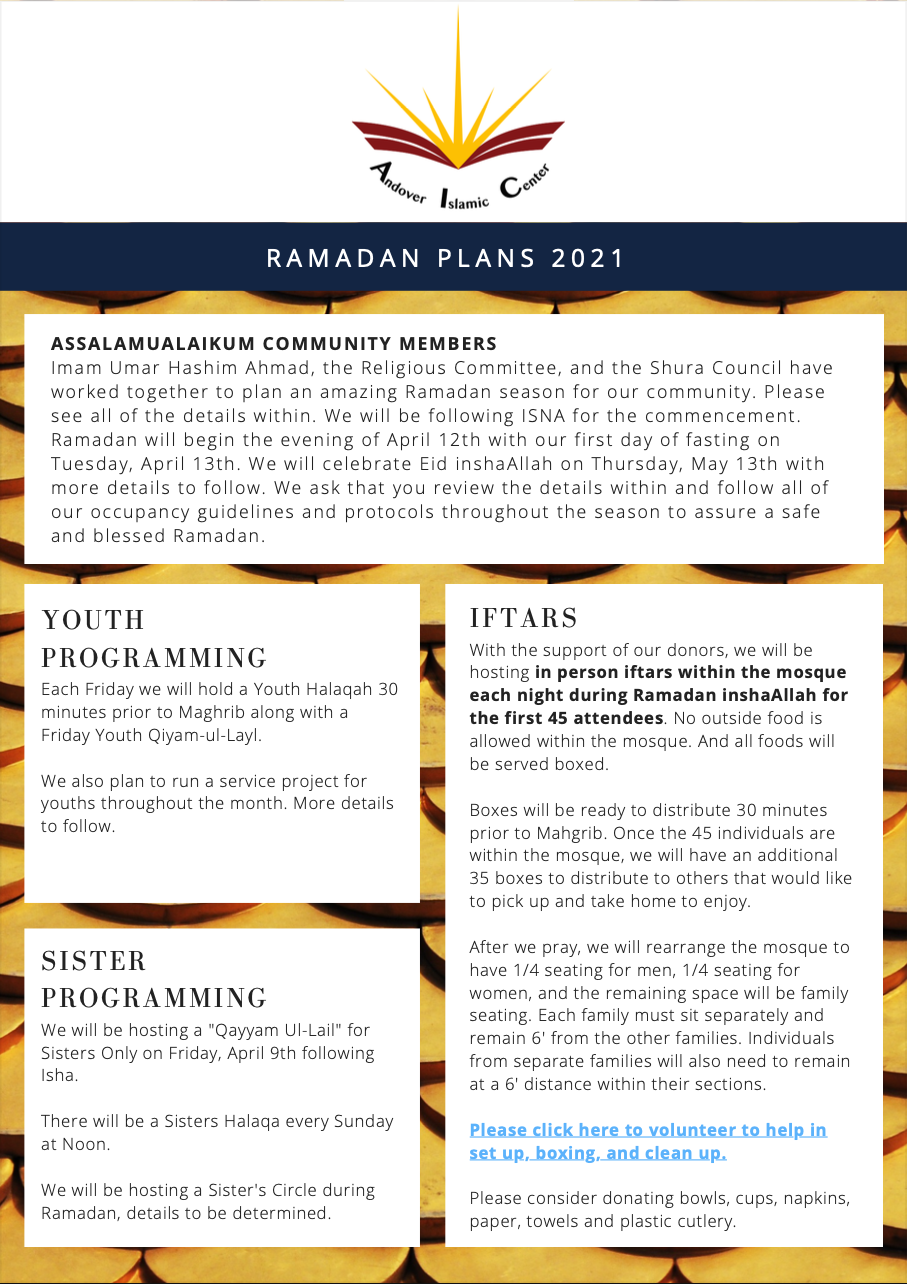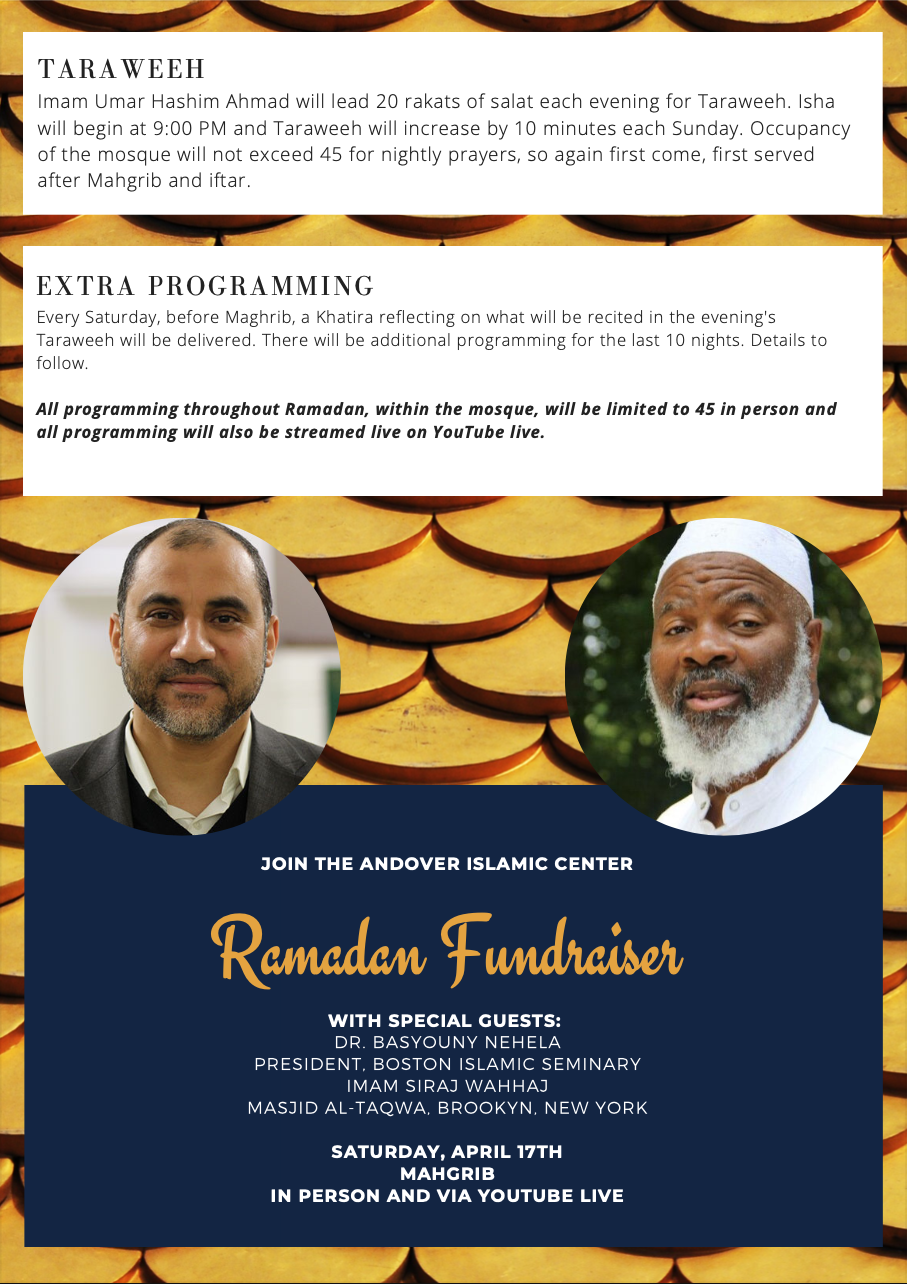 AIC Announcements
As per the guidelines announced by the Mass government, AIC has decided to partially open up the facility with strictly enforced guidelines that MUST be followed by all attendees who choose to come.
FIVE DAILY SALAH:
AIC will be open for all five daily salah but only allowing FIRST 20 attendees.
FRIDAY PRAYERS:
AIC will resume Friday prayers with TWO salah sessions at 1:00 PM and 1:50 PM.
AIC will only allow MAXIMUM 45 attendees per session.
Entrance allowed STRICTLY on first come first served basis.
SAFETY STANDARDS AND GUIDELINES
In addition to safety standards listed at Mass Safety Standards for Places of Worship, all attendees MUST follow guidelines listed below:
WHO SHOULD ATTEND:
Only healthy individuals who show absolutely no signs of any sickness.
PROTECTION:
All attendees MUST wear face coverings or masks in accordance with COVID-19 Order No. 31 and the Department of Public Health's Guidance while inside and while entering and exiting.
All attendees MUST make Wudu at home before coming.
All attendees SHOULD bring their own prayer rug.
SOCIAL DISTANCING:
Strict social distancing procedures are to be followed all times.
No Hugs or Handshakes.
Attendees coming in MUST start to fill in from the front row and only sitting on the marked spots.
Exit would happen from the last row and all attendees MUST remain seated after prayer is done until they are called to leave in an orderly fashion.
To get latest COVID-19 updates, please continue to monitor CDC website: https://www.cdc.gov/coronavirus/2019-ncov/index.html
We fully realize the severity of the decision and what it means to our community, but we are also committed to its safety and security. We will continue to monitor the situation as it develops and reassess our decision accordingly. May Allah SWT protect us all, grant patience, strength, and recovery to all who are suffering from this pandemic.
Mission Statement
To encourage community muslims especially youths to learn their religion and participate in the neighborhood they live in by sharing, exchanging and building a harmonious and safe living environment.
Objectives
Facilitate local muslim community to offer five compulsory prayers in congregation.
Provide religious activities like teaching to read Quran, fundamentals of Islam, how to be a good muslim and citizen.
Provide community outreach to all area residents regardless of their belief.
Play its part in the community it exist in to fight hunger and homelessness.
Services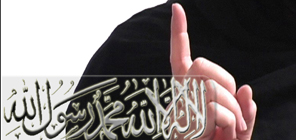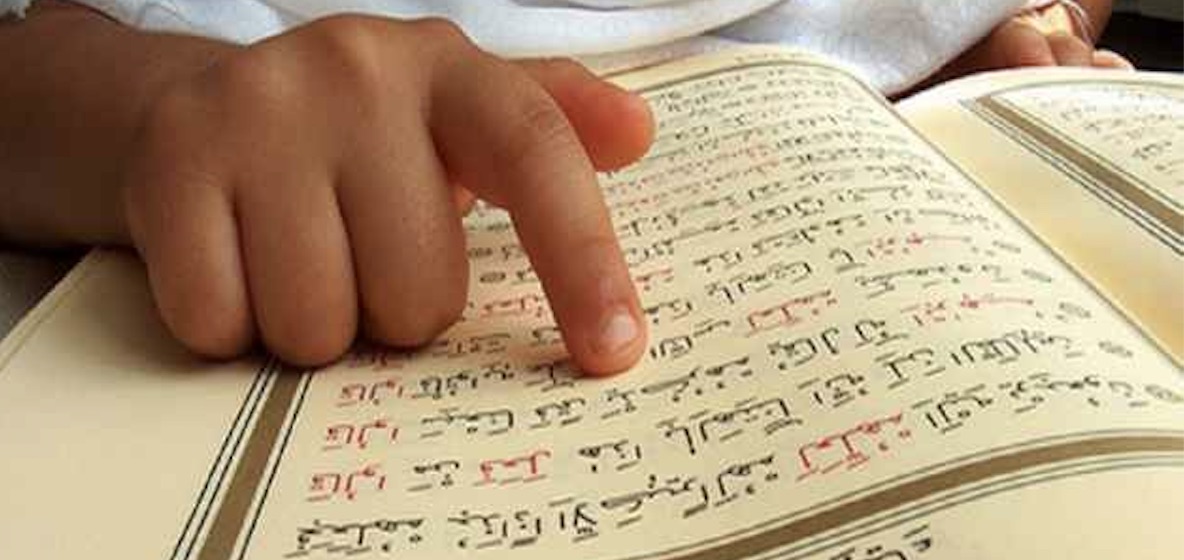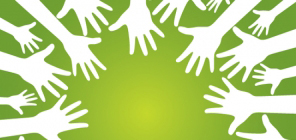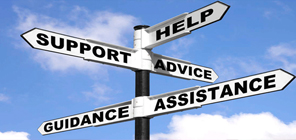 Sunday School
This year we have decided to cancel it's Sunday School program due to a very small number of registrations received. We plan to re-evaluate the opening after the new year. InshAllah, we will continue the in-person Hifz and Tajweed programs with Imam on Tuesdays, Wednesdays and Saturdays. We will continue to explore ways to keep our community specially the youth engaged in different ways.

For more information please contact, Imam at 978-482-7009 or Email: school@andoverislamiccenter.org
Donate
عَنْ أَبِي هُرَيْرَةَ أَنَّ رَسُولَ اللَّهِ صَلَّى اللَّهُ عَلَيْهِ وَسَلَّمَ قَالَ إِذَا مَاتَ الْإِنْسَانُ انْقَطَعَ عَنْهُ عَمَلُهُ إِلَّا مِنْ ثَلَاثَةٍ إِلَّا مِنْ صَدَقَةٍ جَارِيَةٍ أَوْ عِلْمٍ يُنْتَفَعُ بِهِ أَوْ وَلَدٍ صَالِحٍ يَدْعُو لَهُ
1631 صحيح مسلم كتاب الوصية باب ما يلحق الإنسان من الثواب بعد وفاته
Abu Huraira reported: The Messenger of Allah, peace and blessings be upon him, said: "When the human being dies, his deeds come to an end except for three: ongoing charity, beneficial knowledge, or a righteous child who prays for him." [Source: Ṣaḥīḥ Muslim 1631]
Please help build this masjid. Donations are tax exempt under 501(c)(3).
Click here for 2019 Financial Audit letter.
Make checks payable to:
Andover Islamic Center 204 Andover St, Suite 201 Andover, MA 01810
Donate online:
(Please consider paying using bank account to avoid any service fees)
Subscribe
Please provide your name and email to request subscription to our email list:
Imam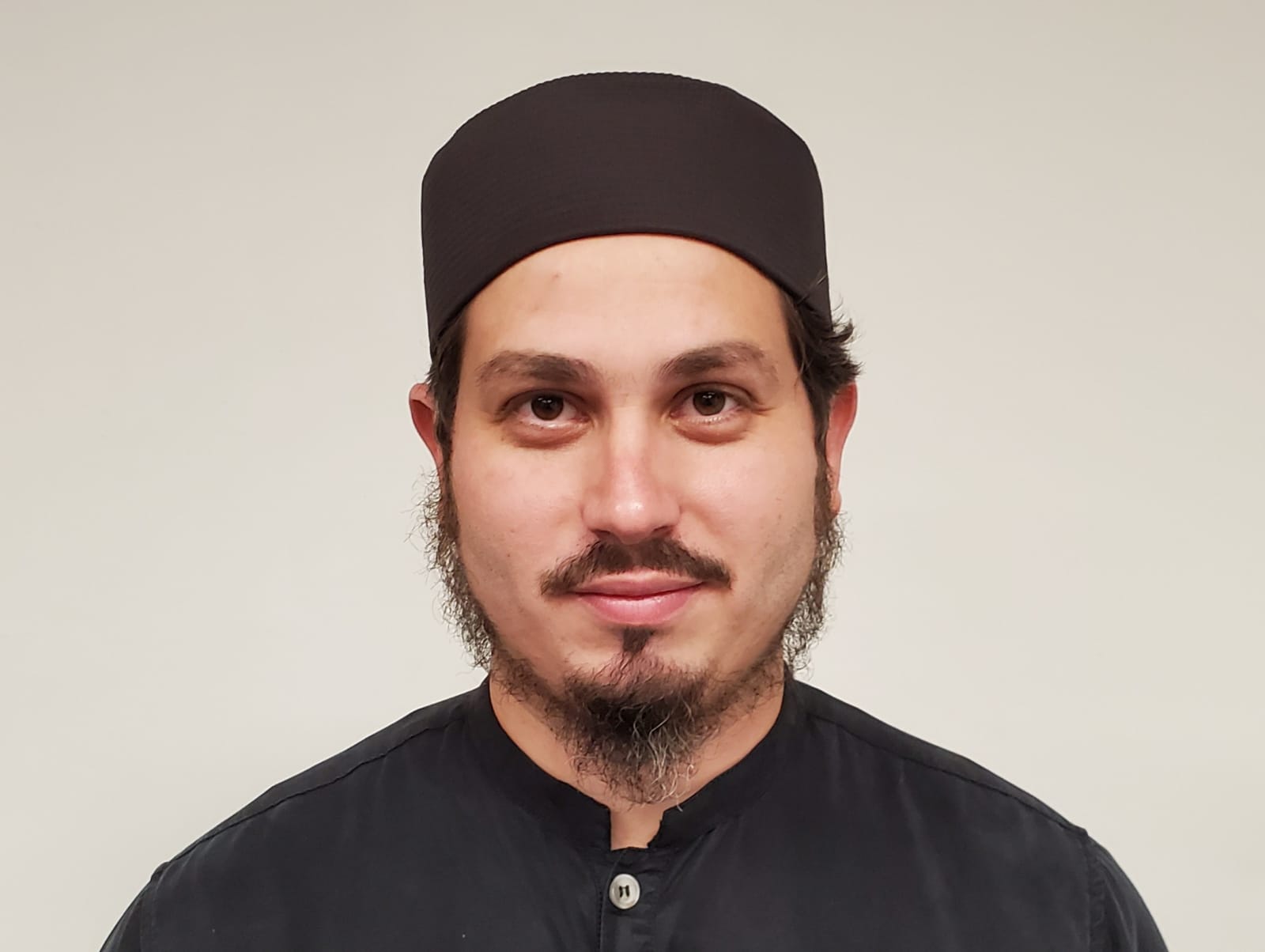 Biography
Imam Umar Hashim Ahmad is born in Makkah, Saudi Arabia. His parents are both US citizens who reverted to Islam. Imam Umar got raised in Karachi and finished his Hifz-ul-Quran at the age of 11. Later, he finished his Masters in Islamic studies from Jamia Binnoria, Karachi. After finishing his studies, Imam Umar moved back to United States and eventually started his own transportation business in California. While taking care of his business, Imam Umar continued to participate in religious activities and led Taraweeh every Ramadan at the Faith Unity in Bensalem, Philadelphia. His love and passion for Islam made him become the full time Imam in Andover Islamic Center in March 2019.

At AIC, Imam Umar is conducting 5 daily congregational prayers, Kids Quran/Hifz classes, Tuesday Seerah classes, Friday Halaqas, Saturday Tajweed classes, Youth programs and other activities. Imam's lectures are also available in AIC's Live YouTube channel.
Imam's Office Hours
Wednesday & Saturday: 1:30PM - 3:30PM (Please RSVP by contacting Imam)
Imam's Contact Information
Phone:
(978) 482-7009
Email:
imam@andoverislamiccenter.org
Gallery